Best CBD Coffee — Top 8 Brands for 2020
Buddha Beans Coffee Co. Infused Coffee — Best CBD Coffee Overall
CBD Infusionz CBD Coffee — Best CBD "Auto-Drip" Coffee
Green Roads CBD Coffee — Best Mainstream CBD Coffee
Holistic Hemp Scotland CBD Infused Coffee — Best CBD Coffee In the UK
Strava CBD Coffee — Best CBD K-Cups
Mary Joe CBD Cold Brew — Best CBD Cold Brew
Infinite CBD Nano CBD Non-Dairy Creamer — Best CBD Coffee Creamer
Black Friday & Cyber Monday Deals are on now! — Get the best deals on CBD.
1. Buddha Beans Coffee Co. Infused Coffee — Best CBD Coffee Overall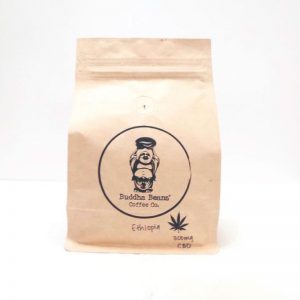 $11.00 – $51.00
Total CBD:

50 – 300 mg

Potency:

5 mg per (8 oz) Cup

Cost per mg CBD:

$0.16 – $0.22

Extract Type:

Isolate

THC Content :

0.0%
There's one thing everybody forgets when it comes to choosing a CBD-infused coffee — the coffee itself! Everyone focuses on the CBD in the product and pays little attention to the beans the company is using.
Buddha Beans Coffee Co. is different — they're a coffee company first, and a CBD company second. This means the coffee the company has on offer is out of this world. They're a local coffee roaster that decided to add a twist to their coffees by adding CBD after finishing the roasting process — and the results are stunning.
This is the coffee we tend to keep in our own office because we love the rich taste of these single-origin coffees. If you're not sure where to start we highly recommend the Ethiopia option.
Enter DAILYCBD at checkout for 15% off
3. CBD Infusionz CBD Coffee — Best CBD "Auto-Drip" Coffee
$39.99
Total CBD:

200 mg

Potency:

23 mg CBD per (8 oz) Cup

Cost per mg CBD:

$0.20

Extract Type:

Broad-Spectrum
CBD Infusionz has hundreds of CBD products to choose from — one of the most popular is this CBD-infused coffee.
This coffee comes pre-ground in a large resealable container. It's a blend of premium medium roast coffee beans grown in the Colombian mountain ranges — a region known for growing some of the world's best coffee.
The only caveat we have with this coffee is the pre-ground format. Coffee tastes much better when ground fresh, but we understand that not everybody wants to take the time to force their coffee through a grinder every morning. With this coffee, all you have to do it add a couple of scoops to your coffee maker and you're good to go.
The grind CBD Infusionz chose for this coffee is optimized for "auto-drip" coffeemakers — which is a medium grind suitable for just about any form of coffee maker. You can use also use it in a french press or pour-over setup.
This coffee provides roughly 32 mg of CBD per 12 oz cup of coffee — which places it in the more potent side of the spectrum.
Visit CBD Infusionz
3. Green Roads CBD Coffee — Best Mainstream CBD Coffee
$13.99 – $54.99
Total CBD:

60 mg – 500 mg

Potency:

6 mg/Cup

Cost per mg CBD:

$0.11 – $0.23

Extract Type:

Broad-Spectrum CBD
CBD coffees are a bit of a specialty item — they tend to cost well-above-average compared to other forms of CBD supplementation like oils, capsules, or gummies. This added cost comes from the addition of coffee beans themselves, and the fact that few companies are making products like this. Manufacturers take this lack of competition as a chance to increase their prices.
Green Roads offers a great-tasting CBD coffee at a relatively low price. The beans aren't the best in the world by any means, but they definitely do the trick for the normal coffee user. Each cup delivers around 6 mg of CBD, which is about average for CBD-infused coffee.
Visit Green Roads
4. Holistic Hemp Scotland CBD Infused Coffee — Best CBD Coffee in the UK
£29.95
Total CBD:

250 mg

CBD Potency:

8-10 mg Per Cup

Cost per mg CBD:

£0.12

Extract Type:

Full-Spectrum
Holistic Hemp Scotland is a UK-based CBD company with a collection of top-notch CBD products — including this CBD infused coffee.
It's rare to find a company that takes the time to source great beans before adding CBD and calling it a day. Holistic Hemp Scotland clearly cares about the coffee it uses for this product — sourcing caffeinated coffee beans from Honduras farms, and decaffeinated beans from Colombian farmers.
Both the Colombian and Honduras coffee beans have a rich, medium-roast flavor, and come fresh from the roastery before having CBD infused into them.
If you take coffee seriously this is one of the best CBD-infused options you'll find.
Visit Holistic Hemp Scotland
5. Strava Craft Coffee — Best CBD K-Cups
Strava is a specialty CBD coffee company operating out of the United States. It's one of the few public companies traded on the New York Stock Exchange.
There are several different coffee products to choose from — including medium and dark roast coffee beans, decaff coffee, K-cups, and Nespresso pods.
You can also choose the strength of the CBD in your coffee. You can buy beans with 4 mg, 10 mg, or 20 mg CBD per (8 oz) cup. Our favorite is the medium roast 20 mg bag. It has a delicious flavor, contains a healthy dose of CBD, and is made from premium Colombian coffee beans.
You can buy Strava coffee in the raw bean form to grind at home yourself (recommended), or pre-ground if you don't have a coffee grinder at home.
Visit Strava
6. Mary Joe CBD Cold Brew — Best CBD Cold Brew
$32.00 – $64.00
Mary Joe
Mary Joe CBD Cold Brew 207 mL (7 oz)
Total CBD :

60 – 120 mg

Potency:

15 mg/Bottle

Cost per mg CBD:

$0.53

Extract Type:

Isolate

THC Content:

<0.3%
There's nothing like a cold brew coffee on a warm day.
Cold-brewed coffee produces a completely different flavor profile to that of hot coffee. The cold water extracts a different set of compounds from the beans — slightly sweeter, less bitter, and tends to have a mild fruity aftertaste.
Mary Joe became an innovator in the cold brew space after deciding to add a CBD isolate to the bottle.
At 15 mg CBD per bottle, there's just enough CBD to really cut back on the side-effects of the caffeine — allowing you to knock back a second bottle if you haven't quite had enough coffee. We love these cold brews and often keep them in the cooler on trips into the backcountry or to the beach.
Visit Mary Joe
7. Infinite CBD Nano CBD Non-Dairy Creamer — Best CBD Coffee Creamer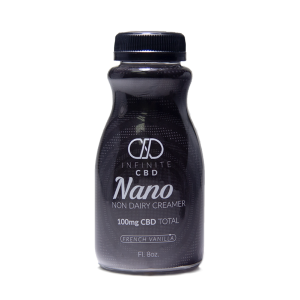 $16.03
Infinite CBD
Infinite CBD Nano CBD Non-Dairy Creamer 8 oz (236 mL)
If you like using creamer in your coffee you're going to love this.
Infinite CBD has put together this incredible dairy-free CBD-infused creamer. It uses the companies nano CBD — which is a modified form of CBD isolate designed for improved bioavailability into the body. This means you'll need less CBD in this form than you would a normal CBD isolate to achieve the same effects.
This product comes in two delicious flavors — hazelnut and french vanilla. We can't agree which flavor is better so it will likely come down to personal preference. Both options taste great and offered a noticeable reduction in side-effects from our morning coffee.
Visit Infinite CBD
What Is CBD Coffee?
CBD-infused coffee combines two of our favorite herbs — coffee and hemp.
This combination may seem unnecessary at first, but there are actually some major advantages of mixing CBD oil with coffee.
Coffee has been used for hundreds of years as a way to kickstart the day with a nice boost of energy and focus. These effects are primarily the result of the caffeine — which stimulates various regions of the brain to delay the onset of fatigue, and stimulate the central nervous system. Caffeine is without a doubt the most popular stimulant on earth — consumed by billions of people on a daily basis.
However, caffeine from coffee can also produce negative side-effects to the body — such as anxiety, jitteriness, and insomnia. These side-effects can often work against us — negatively affecting our productivity while these effects persist.
This is where the CBD comes in.
CBD is a natural relaxant — with a series of effects that directly counteract the negative side-effects of caffeine. When taken together, CBD is able to reduce the chances of developing jitters or anxiety from the caffeine in coffee, while simultaneously providing its own set of benefits on stress, focus, pain, and inflammation.
A lot of students and busy entrepreneurs or executives combine CBD with their coffee to further improve focus and concentration — especially during long study sessions involving more than one coffee at a time.
We often mix CBD oil or take CBD capsules along with our morning coffee for this exact purpose — buying coffee already infused with CBD makes this even simpler.
How Much CBD Coffee Should I Drink?
As is the case with all other CBD products, there's no right answer to this question. It all depends on how your body responds to the CBD as well as the caffeine.
Some people can drink multiple coffees in the morning without any issues, while others experience side-effects with even just a few sips of coffee. Each person is different and will need to find out the right dose on an individual basis.
CBD is the same — some people require large doses to get the desired level of effects, others can get away with much smaller doses.
Ultimately you're going to need to try some for yourself to see how you respond.
With that said. there are some general recommendations you can use to get an idea of the dose.
For example, recent research suggests that the health benefits of coffee are most pronounced with regular consumption in the dosage range of around 300 – 600 mg per day. This translates to about 3–5 coffees per day. This effect relies on the formation of tolerance to the caffeine. Tolerance involves changes made by the body that resist some of the effects of the caffeine. This is why people who rarely consume coffee find they experience jitters or anxiety whenever they drink coffee. After a few days of drinking coffee, these effects subside and become much less common. This is tolerance in action.
The amount of CBD in each cup of coffee will vary depending on the manufacturer — but the average appears to be in the range of 6 mg – 30 mg per cup of coffee.
For best results, we recommend using products that provide around 20 – 40 mg of CBD for every cup of coffee.
Amount of CBD per 8 oz (230 mL) Cup of Coffee:
| | Product Name | Estimated CBD Potency Per Cup (Standard 8 oz) of Coffee |
| --- | --- | --- |
| | Buddha Beans Coffee Co. — Infused Coffee | 5 mg per (8 oz) Cup |
| | CBD Infusionz CBD Coffee | 21.5 mg per (8 oz) Cup |
| | Green Roads — CBD Coffee | 6 mg per (8 oz) cup |
| | Holistic Hemp Scotland — CBD Infused Coffee | 8-10 mg per (8 oz) Cup |
| | Mary Joe — CBD Cold Brew | 15 mg per Bottle |
| | Flower Power Coffee Co. — Hemp Coffee | 5 mg per (8 oz) Cup |
| | Infinite CBD — Nano CBD Non-Dairy Creamer | 0.45 mg/mL |
Not Sure How To Calculate the Potency of Your Coffee Beans?
This can be challenging, but it's not actually that difficult.
The standard cup of coffee contains around 8 oz (240 mL) of coffee. You can usually get around 5 cups of coffee per ounce.
Using the chart below we can calculate roughly how much coffee you can expect from different sized bags of coffee.
From here, all you have to do is divide the total amount of CBD in the bag with the number of cups you can expect to brew as a result.
How Many Cups of Coffee Can I Expect to Get From a Bag?
| Bag Size (ounces) | Number of Cupe of Coffee (Based on Standard 8 oz Cups) |
| --- | --- |
| 6 oz | 30 Cups |
| 8 oz | 40 Cups |
| 12 oz | 60 Cups |
| 16 oz | 80 Cups |
| 80 oz | 400 Cups |
Who Should Consider Buying CBD Coffee?
CBD coffee is an excellent choice for daily coffee drinkers looking for a new and interesting way to take their CBD along with it. Of course, you can always take a CBD oil or capsule along with your coffee for the same effect — but this is more interesting! It also makes things a little bit easier in the morning when you may not be at the top of your game.
Just like non-CBD coffees, you'll be able to choose from a few different coffee varieties sourced from different parts of the world. This allows you to play around with different flavor qualities of the coffee according to your taste preferences.
We recommend anybody serious about coffee and CBD supplementation to try something like this out. It's a fun and interesting addition to your morning ritual.
As a relatively new and innovative product, CBD coffee tends to be a little more expensive than other intake methods such as tinctures, capsules, gummies, or vape oil. Therefore, if you're on a tight budget, CBD coffee may not be the best option.
Read This Before Buying CBD Coffee:
Not all CBD coffees are worth the money — in fact, we found more CBD coffees we didn't like, than the ones we did.
Here are a few questions you can ask yourself while shopping for CBD coffees to make sure it's not going to disappoint.
Where does the hemp come from?
Find a supplier that uses 100% organic, non-GMO, and pesticide-free industrial hemp grown in the United States. This consistently produces the best quality products.
Does the company provide third-party test results?  
Third-party tests should be a mandatory requirement of any CBD supplier you choose to support. Don't buy products if the test results aren't supplied.
Does the product have good value?
The metric we like to use for this is a calculation of the cost for every milligram of CBD used in the product. This provides a simple quantifiable metric for assessing the value of CBD coffees.
A good value CBD coffee should offer more than 4 mg of CBD per standard 8 oz cup, use high-grade hemp and top-shelf coffee, and cost less than $0.25 per milligram of CBD.
Where does the company source the coffee from?
There's a big difference between a great cup of coffee and mediocre coffee. The flavor and enjoyability of the coffee highly depend on which beans were used, how they were roasted, and how they were stored.
Having great CBD is only half of the battle, we've seen lots of companies do the CBD well, but blow it by using cheap, low-quality coffee.
The best coffee comes from regions known for their coffee (Colombia, Brazil, Ethiopia, for example), come in their raw form (not ground), and have a stamp with the date the beans were harvested and roasted that is less than 8 months old.
→ Learn how we evaluate CBD Products
The CBD industry is relatively new and remains highly unregulated — which can make it difficult to find the best CBD coffee products in the ocean of mediocrity.
We've included a shortlist of questions you can ask to see if a CBD supplier is worth your hard-earned cash.
1. Look for Organic Hemp & Coffee
The company's hemp and coffee sources are the most important factors to consider for this product type.
The only way to finish with high quality in this category is to start with high quality — this is true for both the hemp AND the coffee beans used to make the coffee.
Hemp is a bioaccumulator — which means that it absorbs many of the qualities of the air and soil its planted in. Therefore, if the plants are grown in heavily polluted air or soil, these contaminants will likely show up in your CBD coffee.
You can reduce the chances of this happening by looking for a supplier that uses 100% organic, non-GMO, pesticide-free coffee and hemp sources. It's also important that the company makes an effort to source their coffee ethically — as there are a lot of issues with low worker pay, and child labor in the coffee industry — both things I'm sure you wouldn't want to support.
Coffee comes from high altitude regions in the tropics around the world. The best coffee source will depend on your taste preferences as each region offers its own flavor profile to the delicate beans. However, most coffee experts suggest the best coffee comes from Ethiopia or places in Central and South America like Brazil, Colombia, Nicaragua, or Costa Rica.
Hemp, on the other hand, prefers a totally different climate — the United States, Canada, and Scandinavian countries in Europe consistently produce the highest quality hemp we've seen yet.
2. Look for Third-Party Lab Tests to Prove The Company's Claims
Third-party test results should be non-negotiable in your search for high-quality CBD coffee.
As we said before, the industry is mostly unregulated, which makes it difficult to know what you're getting.
The best way to ensure that the CBD supplier is honest is to take a look at third-party test results. Most companies will have these posted on their website.
They can tell you whether or not the products contain potentially dangerous chemicals, solvents, or heavy metals such as mercury or lead. They can also verify that the advertised CBD content matches what's in the coffee.
Simply put: don't buy from companies that haven't had their products tested.
All of the products we've recommended above consistently pass third-party testing.
3. How Does the Coffee Taste?
There's no reason using CBD coffee if the coffee itself doesn't taste any good. This is a lot more common than you'd think. Companies will source cheap, bitter, and burnt coffee and add CBD so they can sell it at a markup.
We can't stand getting a batch of CBD coffee from a new brand only to find the coffee itself isn't even worth drinking.
Of course, this is much harder to assess before you buy the beans to try for yourself — so you'll have to go off customer reviews on this one.
4. Look Closer at the Value Than the Cost
Most people will look at the cost of the coffee beans and decide whether it's too expensive or not. But the initial cost of the beans says little about the inherent value of the CBD coffee.
Value is a measure of how far your money will go. It tells you what you'll get for every dollar spent.
We use a particular metric to assess this — "cost per milligram of CBD".
This metric will tell you how much every milligram of CBD in the bag costs. Thinking of the price in this way allows you to more easily compare CBD coffees with different quantities of CBD or coffee beans.
To calculate the cost per milligram, divide the TOTAL COST by the TOTAL CBD CONTENT. You should get a cost somewhere between $0.12 and $0.50 per milligram.
Once you know the cost per milligram you can compare this with the overall quality, or other factors to determine its value compared to other CBD coffee options. Use the chart below for an idea on what you can expect to pay for CBD infused coffee of different qualities.
Comparing the Cost of CBD Coffees by Grade of Coffee Beans:
| Quality Level  | Average Cost per mg |
| --- | --- |
| Top-Shelf Coffee Beans with Organic CBD Extract | Over $0.45 per milligram |
| Medium-Grade (Average) Coffee Beans | $0.25 – $0.30 per milligram |
| Low-Grade or Instant Coffee | $0.10 – $0.30 per milligram |
In general, the larger bags of coffee with more beans and more CBD have the best cost to potency.
Comparing the Cost Per mg CBD of Our Favorite CBD Coffees
| | Product Name | Quality of the Coffee | Cost per mg CBD |
| --- | --- | --- | --- |
| | Buddha Beans Coffee Co. — Infused Coffee | High-Grade | $0.16 – $0.50 |
| | CBD Infusionz CBD Coffee | High-Grade | $0.20 |
| | Green Roads — CBD Coffee | Medium-Grade | $0.16 |
| | Holistic Hemp Scotland — CBD Infused Coffee | High-Grade | £0.12 |
| | Mary Joe — CBD Cold Brew | High-Grade | $0.53 |
| | Flower Power Coffee Co. — Hemp Coffee | Medium-Grade | $0.46 |
5. How Strong is the CBD Coffee?
The potency is the next quality you should be looking at. The potency from one brand to the next may be radically different.
The potency is important because it gives you the information you need to calculate the amount of coffee you should be consuming for optimal benefits.
Ideally, the CBD content is on the higher end of the range for the product you choose. Otherwise, you risk taking doses of CBD that are so low you won't even feel its effects. Drinking more coffee will just make it more likely you'll experience side-effects from the caffeine instead.
We recommend looking for CBD coffees with at least 6 mg per cup of coffee.
Lower potencies are also available and may be best for people that are more sensitive to the effects of CBD.
To find the potency, take the total amount of CBD and divide it by the number of cups of coffee or servings — this is usually listed on the bag.
Finding the potency of CBD coffee is a little tricky because the actual amount of CBD may vary from cup to cup. This number is going to be a ballpark estimate for this type of CBD product. If you want more accurate dosing, you'll need to stick to CBD oils or capsules instead.
Final Notes on Buying CBD Coffee
CBD coffee is a brand new product that we expect to explode in popularity in the coming years.
Taking a product that is consumed by millions of people every day and adding CBD creates an easy and appealing way to integrate CBD into your daily routine.
You may find that CBD coffee reduces some of the negative side-effects of caffeine, such as anxiety, jitteriness, and irritability while maintaining an increased level of focus and energy.
The combined effects of CBD and caffeine are not entirely known, so you may have to test the products to get a better idea about how effective CBD coffee is for your needs.
CBD coffee tends to be more expensive per mg of CBD than other CBD products, so it may not be the best choice if you're working with a limited budget.
All in all, we're very excited to see CBD coffee develop over time.
If you're currently a regular coffee drinker, give CBD coffee a try. You can find several different flavors and roasts, so you can get your daily dose of CBD without significantly altering your morning routine.
Top-Rated CBD-Infused Coffee
| Number | Product | Total CBD | Potency | Cost per mg CBD | Link |
| --- | --- | --- | --- | --- | --- |
| 1 | Buddha Beans Coffee Co. Infused Coffee | 50 – 300 mg | 5 mg per (12 oz) Cup | $0.16 – $0.24 | |
| 2 | CBD Infusionz CBD Coffee | 200 mg | 32 mg per (12 oz) Cup | $0.20 | |
| 3 | Green Roads CBD Coffee | 60 mg – 500 mg | 6 mg per (12 oz) Cup | $0.11 – $0.23 | |
| 4 | Holistic Hemp Scotland CBD Infused Coffee | 250 mg | 8-10 mg per (12 oz)Cup | £0.12 | |
| 5 | Strava CBD Coffee | 100 – 500 mg CBD | 6 – 30 mg per (12 oz) Cup | $0.11 – $0.22 | |
| 6 | Mary Joe CBD Cold Brew | 60 – 120 mg | 15 mg per Bottle | $0.53 | |
| 7 | Infinite CBD Nano CBD Non-Dairy Creamer | 100 mg | 0.42 mg/mL | $0.16 | |