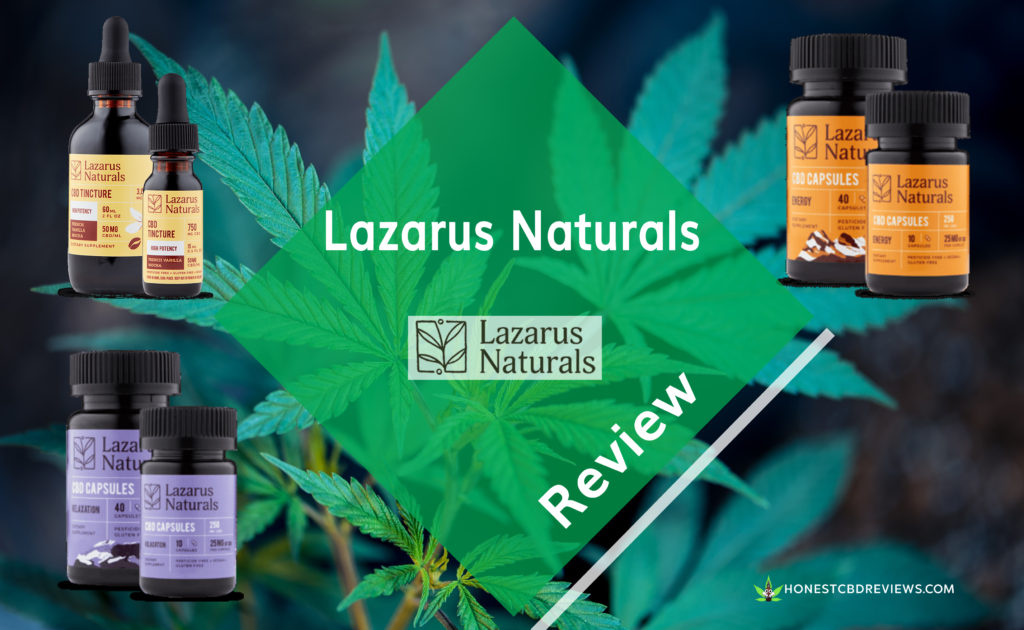 Well, it was finally time for me to review one of the most upcoming CBD brands. Yup, you guessed it, that brand is Lazarus Naturals.
Lazarus Naturals has taken the CBD scene by storm and has become a favorite among CBD users.
I decided to thoroughly try some of their most popular CBD products and give my fair, and thorough assessment to see whether or not Lazarus Naturals CBD lives up to the hype so you can make a better informed decision and eliminate the guesswork.
They must be good if they are popular?
Let's find out how good.
But first, it's time for some important company information.
Lazarus Naturals Company Information
Lazarus Naturals is committed to providing both high quality and affordable CBD.
What's amazing is,
They offer a 60% discount to veterans, people on long-term disability, and low-income households.
All of their CBD comes from pesticide-free, industrial hemp.
Plus,
Their CBD is extracted via the alcohol extraction method using kosher alcohol. The alcohol extraction method preserves most of the cannabinoids and terpenes.
It is a really effective extraction method.
What's more,
Lazarus Naturals' CBD goes through rigorous third-party lab testing, which tests for heavy metals and potency.
Check it out:
Third-party lab testing provides a degree of transparency to CBD company claims, it is always good to have third-party lab testing.
So far, this looks like an amazing company.
Now let's take a look at the products they offer.
Lazarus Naturals Products
Lazarus Naturals doesn't disappoint in this area, there is a whole assortment of unique CBD products.
Here are the categories:
Tinctures | these consist of:

high potency tinctures
standard tinctures
pet tinctures

Capsules:

Relaxation and energy formula, and bottles of varying milligram strengths

Isolates:

Terp infused isolate
Raw Isolate

Coconut oil:
Pet Products:
Rso:
Balms | 3 scents:

Cedar citrus
Lavender
Soothing mint
Yes, like I said, they have a unique variety of CBD products.
What else I noticed from purchasing their products,
They have a great variety of sizes, so you can purchase different things without spending too much money.
Now let's get to the nitty-gritty, my thorough assessment and review of Lazarus Naturals CBD. products.
My Lazarus Naturals Review and In-depth Assessment
So, I am only going to be reviewing the CBD products I tried from Lazarus Naturals (which was three of their popular products) and explain in detail the effects and flavor if necessary.
I tried these products with high hopes, considering what a giant CBD brand Lazarus is, and now we will find out if those hopes were fulfilled.
Let's get to the first product, shall we?
Lazarus Naturals Energy Formula 25mg CBD Capsules (10 Count)
Price: $15
Ingredients: Organic Brown Rice Flour, L-Theanine, Rhodiola, Vegetable Cellulose (Capsule), Caffeine, CBD Isolate, Vitamin B12
Click to expand
I figured that this was an interesting product considering that most CBD, usually makes most people a little drowsy and calm. I was wondering how well the ingredients in the Energy Formula would work for, well, energy.
Effects
As mentioned in the product heading, the energy pills contain 25mg of CBD.
The effects seem to work pretty quickly. To me, at least, it felt like approximately 15 minutes.
It works wonders on my anxiety and provides a serene feeling, almost working to sedate my anxiety. I would like to mention that I had tested these pills out while being under extreme pressure.
As far as energy is concerned, I didn't notice the pills to be really energizing; the caffeine did make me slightly jittery and a little more cognitive. But I didn't feel significantly awake (in case you were wondering, I hardly ever drink coffee, therefore I haven't developed a tolerance to caffeine).
Still,
These work wonders as far as CBD benefits are concerned. You don't seem to get a crash from the caffeine and the heart palpitations, because the L-theanine in these pills channels the caffeine into a calm, focused energy.
Don't get me wrong,
I felt a little more energy than usual (if anything the caffeine delivers the CBD to your system quicker), but I don't think that energy are these pills shining points.
I think it's anxiety-relieving effects and ability to keep a calm cognitive mind is where it shines.